Virtual Racing
Learn How Final Surge Virtual Racing Works

March 23rd - 29th, 2020
Due to a large response over the last few weeks from organizations, coaches and clubs, Final Surge has developed a virtual racing service that will allow athletes to virtually come together, have fun, get fit and participate in some friendly competition.
We are asking you to help us beta test our new service before we release it for official use by offering free entry into the Final Surge Virtual 5k!
Finish the Race, Win Prizes!
All finishers will be entered in a drawing to win one of three $50 Amazon gift cards and one of five Run Starter Packs from UCAN!
How does it work?
We've made virtual racing simple and fun. Here's how:
Sign up for free here: Sign Up
The 5k will take place the week of March 23rd. A planned Virtual 5k race will be placed on your calendar for Saturday, March 28th. Using the Final Surge app or our web platform, you can move this planned race to any day of the week starting Monday, March 23rd and ending on Sunday, March 29th.
Run, jog or walk indoors on a treadmill or outdoors, it's up to you. We just want you to be active!
Sync your results to the planned race using one of the many platforms we connect with: Connected Apps & Devices. If you ran on a treadmill or don't have GPS device data, you can always enter your results manually using our app by typing your completed time and distance into the race.
After you have raced, view where you rank on our live leaderboard here: View Results. These results will be updated on a daily basis.
On Monday, March 30th, official results will be released, and we'll announce the winners of the drawing for the Amazon gift cards and UCAN Run Starter Packs.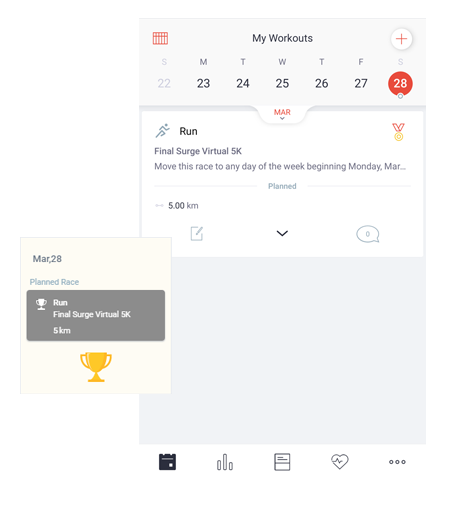 Run with the pros!
Members of the HOKA NAZ Elite team will be taking part in the virtual 5K. See how you stack up against some of the best runners in the world!